Journal Entry:
Tue Sep 21, 2010, 3:39 PM
Hey, Tranquility here! I promised to post progress, so here it is. Sorry that it doesn't look like much yet, I still have a lot to do! Adding to this journal will help keep me motivated.

Working!
My fabric! It needs to be ironed, haha. The blue is silk dupioni that I was lucky to find pretty cheap and the white is a shinier poly shantung from JoAnns. I liked them because I wanted some texture. I got this fabric a long time ago, but I've been procrastinating on the sari because making the trim is kinda a pain. Must work!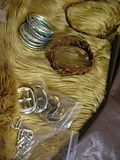 Unfinished necklace and bangles, my completed armband, and the buckles for my belt and boot covers.
My top and armbands. I made the top from two layers of fabric for extra thickness. I might hand sew the back later and seam rip out those vertical seams because I don't think I like them.
My sari and tattoo stencils and my painted L'cie brand. I plan to draw the tattoo on with tattoo pen, but I'm going to stick the L'cie mark on my arm to save time and I'll probably soften around the edges with white makeup.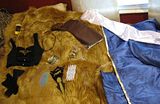 Most of my materials so far on top of the fur I'm using for my tails. If the dye works on it, Hanamaru will use it for her Vanille fur too. I love that fur, so soft!

Our wig/makeup test!
Edit:
Almost finished with the fur tails. Just gotta gradient dye em!
I love working with Super Sculpey! I kinda burnt them though. Whoops. I made my own belt out of cord too.
Wow, these boot covers took a lot longer than I thought they would! It was my first time making straps, punching grommets, and working with buckles. I still have to add the silver rectangles though. I originally was going to use mirror tiles but I couldn't find them in the right shape/size so I'm going to make them out of Sculpey or something.
All I have left to finish is the sari and the lance.
Edit: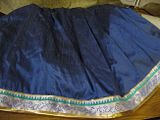 I underestimated how long the trim would take too. Having a stencil helps speed up the process but it looks messy in some places. I'm going to have to touch it up a lot and fix the triangles. So close to being done!
Things keep going wrong with the lance so I'm still working on it. The silver spray paint on it stayed sticky for days and got everywhere, the metallic red spray paint I bought wasn't metallic at all, the black spray paint was too watery, I kept getting the wrong bolts, the thin wooden blades kept chipping so I had to fix them with air dry clay, and it gave me cuts and blisters, etc. All I have left to do is repaint some things and it'll be ready for EXPcon! So glad!

Wig: X
Makeup: X
Contacts: X
Black Tattoo stencil/pen: X
L'cie Mark: X
Earrings: X
Necklace: X
Longer Beaded Necklace: X
Black Top: X
Black Armbands: X
Bracelets: X
Armband: X
Sari: In Progress
Belt: X
Fur Tails: X
Boots: X
Spear: In Progress
Mood: Exhilarated
Watching: Law & Order

Watch